Plein Air Art found Year Round at the Visitor's Center
Artists from Southern California Plein Air Painters Association, SOCALPAPA, venture into the outdoors throughout Orange County, inspired to paint its beauty. Their creations are regularly displayed in the Peter and Mary Muth Center's gift shop. A portion of each painting purchase goes to protecting and preserving the Bay.
SOCALPAPA Paints  OC PARKS and the BACK BAY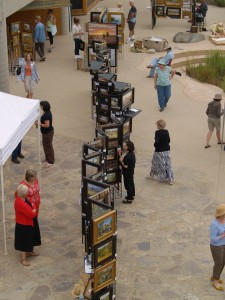 Art Show & Sale
SAVE THE DATE
October 20-21, 2018
10:00 a.m. – 4:00 p.m.
Peter & Mary Muth Interpretive Center
2301 University Drive, Newport Beach, CA
SOCALPAPA Artists Return to Exhibit at Back Bay
Southern California Plein Air Painters Association (SOCALPAPA) artists return to the Upper Newport Bay for their art show and sale.  You can see artists at their easels throughout our parks, capturing beautiful scenes and the natural heritage of Southern California. Working in the open air allows these artists to duplicate the unique colors and light effects that can only be seen when the artist paints under an open sky.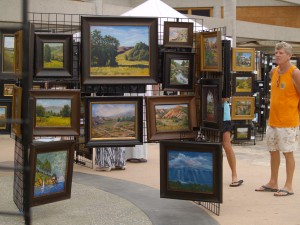 Juried submissions will be on display in the Watson Theater starting Saturday, October 13 through October 19. Several hundred additional original paintings will be exhibited at the art show and sale, which takes place from 10:00 a.m. – 4:00 p.m. on Saturday and Sunday, July 15 and 16.  SOCALPAPA artists will display original plein air paintings of the Bay, parks, and other local scenes, with a portion of the sales proceeds to benefit the Newport Bay Conservancy.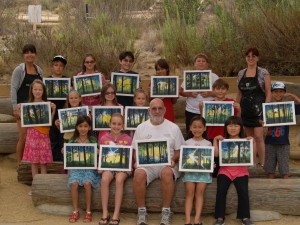 FREE PAINTING CLASSES FOR KIDS from 7-12 years of age will be offered over the weekend.   Children's art instructors will provide students with an unforgettable fine art experience.  Classes will be held in the kids' classroom inside the Peter and Mary Muth Interpretive Center.  All materials are supplied and participants will take home a completed painting at the end of class.  Student space is limited and classes will fill up quickly.  Plan now to provide a special fine art experience for your child.  Reservations coming Summer 2018.
This festival of fine art is a collaborative event organized by Newport Bay Conservancy in partnership with SOCALPAPA and Orange County Parks.  SOCALPAPA's nearly 200-member association dedicates itself to painting outdoors from life.  For more information about SOCALPAPA, visit the association's website, www.socalpapa.com.
(c) All photos of art show courtesy of Albert Stanchfield